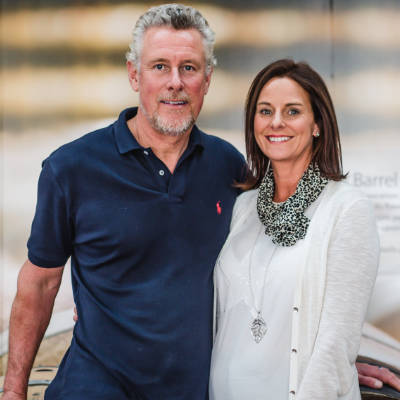 Our Story
Let me tell you about McBarley's.
McBarley's was founded in 1994 as an on-premises beer-making facility. Four years later, Ray Bodnar bought the business and added wine making to the menu. Ray's wines and beers won awards all over the place, including Amateur Wine Maker of Canada (1997), Amateur Wine Maker of BC (1998), and Beer Maker of the Year (1998). In 2008, Ray moved McBarley's to its current Location: a 6000 square-foot facility designed by local architect David Coulson.
My husband David and I bought McBarley's in 2009. We were looking to invest in a thriving business that could benefit from our 25 years of experience in retail management. In McBarley's, we found a knowledgeable, dedicated team working with loyal customers in an exceptional facility. David set to work learning Ray's beer- and wine-making tricks, and I focused on updating the store's interior.
We bought new equipment to improve Cider, Beer and, Wine Making and automated Bottling Processes. What we have now is a fresh, clean facility with a young, energetic staff who continue to produce award-winning wines and beers.
McBarley's have won 32 international medals, with entries from the US, Canada, and 8 other countries at the WineMaker International Amateur Wine Competition between 2006 and 2018. We've also won 96 medals at national and provincial wine competitions, plus over a hundred rosettes for beer and cider.
Whether you make your tipple with us or at home, we look forward to helping you craft wine, beer, and cider with great taste you can trust.
Stop by for a visit we'd love to show you around!
We care about the Cowichan Valley
It's our home
We contribute in these ways:
Recycling
Our fruit waste is collected by local farmers who use it for livestock feed and composting.
Buying Local
We buy beer honey from Hardie Honey
We buy organic ingredients from the Community Farm Store